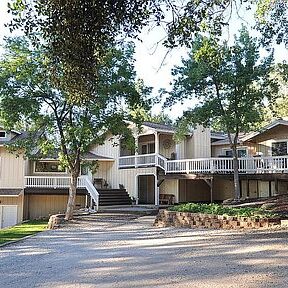 We've installed mini splits in countless Sonora, CA homes, but this job was a little different: The house was undergoing renovations so the owner can use it as a wedding venue. 
The owner called us to determine how he can get the most comfortable heating and cooling for his clients while keeping within his budget. We talked about a mini split because, with one, he could control each zone separately. And it provides more consistent comfort than conventional HVAC. 
In the case of this home, we suggested something a little different: A combination of ductless zones with wall-mounted air handlers coupled with a ducted run using existing vents and a new recessed ceiling cassette. 
When it's all put together, it'll help make anyone's special day perfect. 
In this case study, we'll go over:
Customization: Mini Splits Offer "Zoned HVAC"
Comfortable, Consistent Heating And Cooling
More Mini Split Benefits
Installing A Five-Zone Hybrid Mini Split In Sonora, CA
And, if you'd like to learn more about how a mini split can enhance your Tuolumne, CA venue, or business while reducing expenses, reach out to Performance Based Heating and Air for your free consultation. 
---
Problem: A Sonora, CA home was being converted into a wedding venue. The existing HVAC system was not strong enough for the new design, and the owners needed more control over the temperature in different parts of the house. 
Solution: Installed both a ducted and ductless mini split system. It uses existing ductwork to heat and cool the common areas with zoned HVAC for more control in other rooms.
---
Customization: Mini Splits Offer "Zoned HVAC" 
For this wedding venue, the big selling point was customization. With a mini split, the hosts have different temperature settings in different rooms. We call this "Zoned" HVAC, and it's especially useful for an event space. 
In particular, this venue has large common areas where a lot of people gather. Then, you have the rooms where the bride and groom are getting ready. You may need more cooling, for instance, in the main room where there are more people and more body heat. 
But, you don't want to freeze out the bride and her party in a separate room. And, of course, the opposite occurs in the winter: The private rooms likely need more heat than in the larger space with more people. 
Each indoor unit, or air handler, has separate controls. While we hook up multiple units to one heat pump, they all work independently. This way, the event programmers or hosts can set each one to a different temperature. 
Comfortable, Consistent Heating And Cooling
Next was the quality of comfort for the guests. Not only did the venue now have more control over the heating and cooling. They were also getting better treatment in each room. The temperatures are more consistent all the time. 
The ductless heat pump has a variable-speed motor. It's a huge step up from conventional, one-stage HVAC systems. Everything from gas furnaces to baseboard heaters have only two modes: On and off. 
As a result, they work by waiting for the temperature to drift away from where you want it. Then, they switch on to "course-correct" and get you back to where you want to be. If you've ever noticed, for instance, that your home is a little chilly right before the heater clicks on, that's why. 
But, that doesn't happen with variable-speed motors. Instead, the heat pump runs at full speed until the thermostats reach their call. Then, it slows down. 
This way, it provides just a little bit of heating or cooling all the time. It's able to hold the temperature at the exact setting almost all the time this way. It won't ever over-treat by running at too high of a setting. 
And, for a special day, it's one more way of making everything run smoothly. 
Read More: What Does A Ductless Heating And Cooling System Cost?
More Mini Split Benefits
The superior climate control was enough to make this venue owner say "I Do" to a mini split. But, the benefits didn't stop there. Ductless is also: 
Whisper-Quiet
Energy-Efficient 
Sleek Design
Whisper-Quiet
Sure, once the party started, you'd never hear or care about the sound of air rushing through the vents. But, for those intimate moments, from the bride getting ready to the big moment, silence is golden. 
And that's when you get with a ductless system. Since it's moving heat and not air, you don't get the sound of forced air. 
Energy-Efficient 
Weddings aren't only expensive for the bride and groom. The venue owners also carry a lot of overhead. With a mini split, they can reduce their costs a little. These systems are exceptionally energy-efficient. Most new installations reduce a building's energy bills anywhere from 25 to fifty percent.
Sleek Design
Lastly, the system is out of sight and out of mind. The ducted portion of this system uses recessed ceiling cassettes. And, the wall-mounted air handlers are whisper-quiet and out-of-the-way. They barely even show up in photos. 
Installing A Five-Zone Hybrid Mini Split In Sonora, CA
This was a big job and a little more complex than the standard mini split installation. Still, we got it done in four days. We'll look at the ducted and ductless parts separately. 
Ducted Installation
We put in the recessed ceiling cassette for a ducted run in the living room. This will be the big common area. That makes a ceiling mount the best way to circulate the air throughout, even when it's crowded. This ducted run also connects to a few of the bedrooms that already had vents in them. 
Ductless Installation
Next are three zones using wall-mounted air handlers. We mounted the first one in the dining room, and it's strong enough to treat that space plus the adjoining kitchen. 
We placed another in a bedroom that's next to a small bathroom. Once again, the one wall-mounted indoor unit easily handles both rooms. Finally, we installed the last one in what's currently a game room and is closed off from the living room and dining room/kitchen zones. 
To connect these all outside, we ran the lineset up from each unit. A few were already on exterior walls, so it was easy to attach them to the heat pump outside. For others, like the kitchen, we got creative by running lines through closets and other out-of-sight areas. 
Here at Performance Heating and Air, we've installed ductless systems in homes, businesses, and Airbnb's across Tuolumne and Calaveras counties. Starting with a free consultation, we'll help you build the atmosphere you want for your business while staying within your budget.