I would have to say that the one question I get asked the most about Mitsubishi ductless mini splits is "What Does It Cost?"
And that's a great question that I have noticed very few contractors will give without looking at the home they are installing it in. There is a good reason though, being that many factors contribute to the installed cost.
Difficulty of install has to be part of the price
The equipment we chose has substantial changes to price
The size of the home
How many zones we are installing
But I can offer some starting prices so you have a good idea of what your getting yourself into. Keep in mind when looking at prices this is a product that is leaps and bounds more efficient that any ducted system. While it costs a little more upfront there is huge savings on the back end.
So, lets dive into pricing,
Single zone systems from ¾ ton up to 2 tons start at $2700 and go up to about $5000
2 zone systems start at $5000 and go up to about $8500
3 zone systems start at $7000 and go to about $10500
4 zone systems start at $9000 and go up to about $15000
5 zone systems start at $11000 and go up to about $17000
6 zone systems start at $13500 and can go up to about $20000
8 zone systems start at $16000 and can go up to about $25000
Most 6 zone systems and above are installed on homes that normally would require two HVAC systems.
Save on Energy Costs with Zoned Temperature Control
WHAT WILL YOU SAVE?
Realistic numbers for our area are roughly 50% on electrical in the summer and 60% on electrical in the winter if you are currently using a standard heat pump for heat. 25% off propane in the winter if you are using propane to heat.
So the upfront costs are relatively close to conventional systems yet you get all these benefits with a Mitsubishi Ductless system.
All the rooms in your house are zoned, some on, some off, different temps in each room.
Not paying for all the conduction loss that happens trying to run conditioned air through ductwork.
Whisper quiet
Large energy savings
Better indoor air quality
Longer warranties, 12 year compressor, 12 year parts, 2 year labor with option to purchase 12 year labor
Less parts break downs, Mitsubishi boasts a 0.8% parts breakdown ratio over 12 year warranty period of all products in the USA
Control Your Comfort
Whether it's heating or cooling, Mitsubishi ductless units can turn any room, zone or your entire home into an oasis of comfort.
Control Your Zone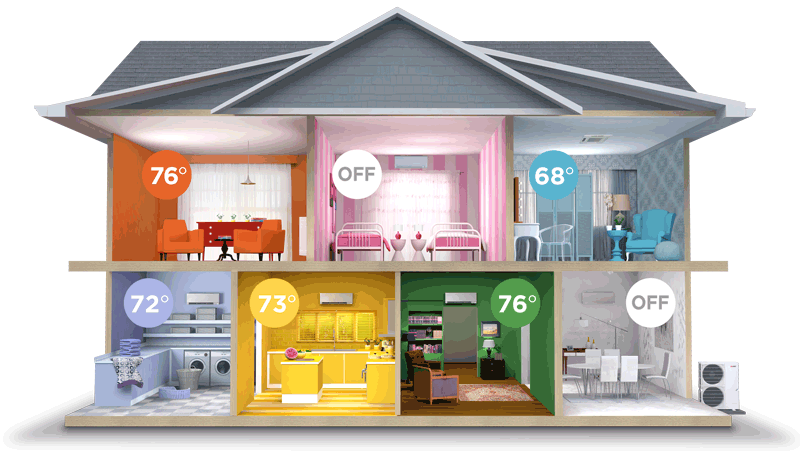 Room by room temperature control
Whisper-quiet
Odor filtration
Improves air quality, reducing dust, mold and allergens
Allergen filtration
No more hot or cold rooms in your room
Turn OFF unoccupied rooms
Up to 40% more efficient than central air
Mitsubishi Electric brings unmatched energy efficiency, performance and control to home cooling and heating. It's never been easier to keep everyone in your house comfortable, without spending a fortune on your energy bills. Mitsubishi Electric Zoned Comfort Solutions™ are perfect for any situation, from a hot or cold room to a whole-home renovation. These systems give you more control over the temperatures in your home, and do it better than central air.
How a Mitsubishi Electric Cooling & Heating System Works