Whether you need a routine air conditioner tune-up or a new central AC installation, you can trust the pros at Performance Based Heating & Air to do the job right the first time at a price you can afford. We proudly serve residents in Murphys, CA, and the surrounding communities.
You can easily book services online!
4 Warning Signs Saying You Need a New Central AC Installation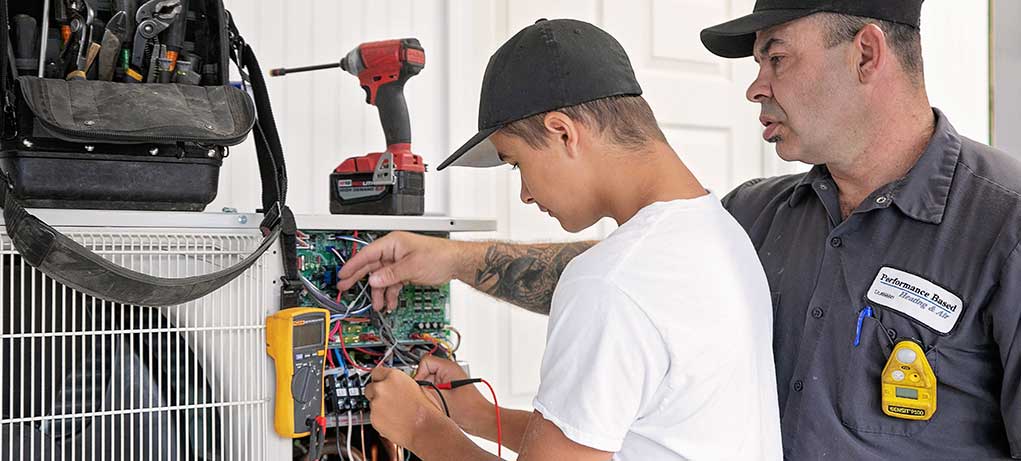 The average lifespan of a central air conditioner is between 10 and 15 years. However, this can change based on how well you maintain your system and how hard you push it. Fortunately, most air conditioners give off subtle warning signs letting you know that things aren't right and that you should consider an AC replacement sooner rather than later. Here are the four warning signs to watch for.
Age – As mentioned, the average lifespan of a central AC system is about 15 years, so if your system is at that point or beyond, consider replacing it as soon as possible.
Expensive Parts/Repairs – Sometimes, repairing an old air conditioner isn't worth it, especially if the repair is half or over half the cost of a new unit and your warranty is expired.
AC Can't Meet Your Needs – Have you noticed that your aging air conditioner can't keep your home as cool as it used to? Does your home feel more humid than it should? If you answered yes, then you may need to replace that old air conditioner.
High Energy Bills – As your air conditioner gets older, it loses efficiency, which means it must work harder to do the job it did before. An AC that works harder to keep you cool uses more energy, which translates to paying higher energy bills. A new, high-efficiency system will keep you cool for less money than you're currently spending.
If you think it's time for an AC replacement, call the experts at Performance Based Heating & Air for an inspection and consultation.
Why AC Maintenance is a Must
Many Murphys residents don't think twice about their air conditioners; they expect the system to work when called on. However, an air conditioner is a complex machine and requires regular tune-ups and maintenance to keep it running efficiently and to extend its lifespan for as long as possible. If you've never thought much about AC maintenance, here are a few reasons why you should.
A well-maintained air conditioner runs more efficiently, which means it uses less energy to cool your home, which means less money spent on energy bills.
Also, regular AC maintenance allows you to fix minor problems and replace worn-out parts before they cause the system to fail.
Lastly, scheduling maintenance and a tune-up during the off-season ensure your system will perform without issue all summer long.
Check out our case studies to find out why we install Trane HVAC systems, Generac generators, and Mitsubishi mini-splits over any other brand.
AC Maintenance Tips
Now that you know how crucial regular air conditioner maintenance is let's look at a few basic things you can do to keep your system in tip-top shape.
Change or clean the air filters at least once a month.
Clean the AC's evaporator and condenser coils.
Remove debris such as leaves and grass clippings from the outside unit to improve airflow and efficiency.
Check the fin coils and straighten any that are bent.
Call an AC contractor to schedule maintenance and a tune-up once a year.
Local Reviews
for Murphys, CA
Powered by Nearby Now
---
Jacob K.
Best HVAC contractor near me
Near
Laurel Ln,

Murphys

,

CA

95247
Jacob K.
Air Conditioning instalation in Sonora
Near
Oak Tree Cir,

Murphys

,

CA

95247
Jacob K.
Ac not working well in Sonora
Near
Oak Tree Cir,

Murphys

,

CA

95247
Jacob K.
Replace HVAC in Sonora
Near
Oak Tree Cir,

Murphys

,

CA

95247
Jacob K.
Air conditioning not cooling in Sonora
Near
Oak Tree Cir,

Murphys

,

CA

95247