Whether you need a new AC installation or a simple tune-up, you can count on Performance Based Heating & Air. We have over 20 years of experience serving residents of Calaveras and Tuolumne Counties.
Contact us today for a free consultation!
Common Signs You Need a New Air Conditioner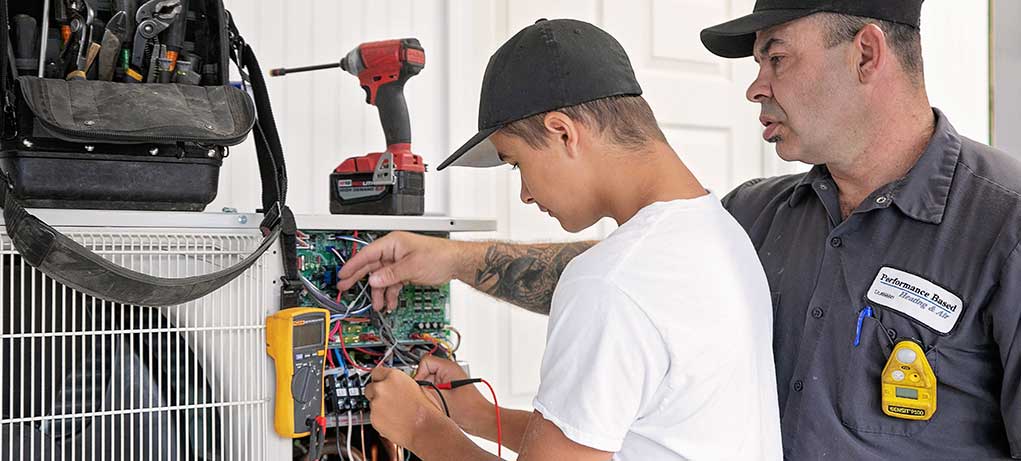 Your air conditioner is a significant investment that you want to hang on to for as long as possible. However, like any machine, your AC system will eventually fail and require replacing. Instead of waiting until the system ultimately gives out, get to know these warning signs that you must plan on replacing your system sooner rather than later.
Age – The typical lifespan of an HVAC system is 12-15 years, so if yours is reaching the upper end of its life, plan now to replace it before it fails.
More Frequent Repairs – If you've ever had an old car that required constant repairs, then you know how frustrating it is to throw money at something that's becoming more unreliable. If you notice that you're repairing your AC more frequently each season, consider upgrading to a new, more reliable system.
Low Efficiency – As an HVAC system ages, it becomes less efficient, which means it takes more energy to do the job it did before. A system that uses more energy manifests itself in several ways: Higher utility bills and running longer to do the job. If you notice that your utility bills are spiking, look to your air conditioner as a possible cause.
Replacing an air conditioner is easier and less expensive than you might think. Plus, we offer financing options to help you with a new system installation.
Why Routine Maintenance is Crucial to your AC's Lifespan
If you're like most Sierra Village homeowners, you trust that your air conditioner will run as expected every summer. The last thing you want is to turn it on that first hot day to find that it has failed. Routine maintenance not only extends the lifespan of your air conditioner but also offers the following benefits.
Protects Equipment – Replacing your central air conditioner is an expense you don't want to have to incur every few years. So, staying on top of routine maintenance is one of the best ways to detect minor problems before they have the chance to blow up to major problems that are expensive to repair.
Saves Energy – An air conditioner that runs efficiently saves energy, which means you pay less on your utility bills every month. The less work your system has to do to maintain the desired temperature, the more money you keep in your pocket.
Increased Comfort – A well-maintained air conditioner provides greater comfort, which means you spend less time fiddling with the thermostat and more time enjoying your home.
If you've never had a professional AC contractor maintain and tune up your system, it's time to do it now. Call us for more information!
Why Trane HVAC Systems are America's #1
Choosing the right HVAC system is difficult because there are so many brands and models to choose from. However, with over two decades of experience, we exclusively install Trane systems, and here's why.
Long Tradition
Trane has over 120 years of experience in the heating and cooling industry. They build products to operate at peak efficiency to save you money and keep you comfortable. Also, Trane goes above and beyond to design and develop systems that are long-lasting and reliable.
Annual Savings
Like miles per gallon in a car, the higher your system's SEER rating, the more comfort you get from each energy dollar spent. Trane manufactures air conditioners with SEER ratings up to 27, which means you can save up to 48% on your annual energy bills. Trane systems provide unsurpassed performance per dollar spent than any other HVAC manufacturer, which is why they've been named America's Most Reliable HVAC System five years in a row by Lifestory Research.
Innovative Design
Trane designs, tests, and builds the parts for their HVAC systems. They push them to perform beyond industry standards, which means users get a more reliable and long-lasting system than the competition.
Extreme Testing
Trane knows that you want a reliable system for the money you're spending, so they build their systems to withstand the most extreme temperatures and conditions. Every Trane unit is tested, retested, and tested again. They put their products through 16 weeks of bone-chilling cold and blistering heat, with some units enduring more than 2,600 hours of continuous testing. Trane goes so far as to test the reliability of their systems that they even encased units in solid ice to ensure they continue running.
The bottom line is that regardless of the climate or extreme temperature, you can trust Trane to perform as needed year after year.
Local Reviews
for Sierra Village, CA
Powered by Nearby Now
---