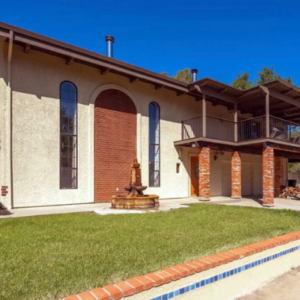 An Angels Camp, CA homeowner called us with an unusual situation. Their old system was constantly breaking down and leaking carbon monoxide. It was also a huge package mounted on an old structure that wouldn't last much longer. 
And, since it was old, it was inefficient. Each season, it required more energy than before to keep up. But, they didn't want to buy another system that would end up causing the same problems. 
Here's the funny thing: This homeowner didn't know we'd serviced this unit in the past! When he called us, we gave him the system's history.  
Then we talked about ductless mini splits. He could get the energy efficiency he wanted, along with better comfort and far fewer safety concerns. 
In this case study, we'll go over: 
Warning Signs Of A Carbon Monoxide Leak
Better Heating And Cooling With A Ductless Mini Split
Energy Efficiency And Safety In An HVAC System
Ductless Heat Pump Installation In Angels Camp, CA
---
Problem: The HVAC system in this home kept leaking carbon monoxide. And, it was on an outdoor platform that was rotting away. The homeowners needed a safer, better system.
Solution: Replaced the old setup with a ductless heat pump. The mini split system offers better comfort and energy efficiency. It's also a much safer installation.
---
And, don't ignore the problem if the HVAC system in your Calaveras County home has a carbon monoxide leak! It will become hazardous to your health and can even be deadly. Not trying to be dramatic.
Please call us right away. We'll make sure your family is safe. And, we'll help to make you a better-educated buyer should you need to replace your failing system. 
It's never fun when furnace replacement or air conditioner replacement is the only answer. Until it is.
My goal is to help you make a decision you feel good about because you knew your options and were able to make the right decision for your situation.
Warning Signs Of A Carbon Monoxide Leak
Carbon monoxide, or CO, is a deadly gas that's also gasless, odorless, and colorless. Without a CO detector, you won't know it's present. And, if it builds up in your home, you'll get nauseous and eventually pass out. 
At that point, the gas can build up enough to suffocate you. That's why we all have CO detectors now. 
If yours goes off, open the windows immediately and call your HVAC contractor. You need a professional to determine if there's a leak. 
If the detector keeps going off with the windows open, leave and call the fire department. 
In the case of this Angels Camp, CA home, the detector kept going off. On top of that, the outdoor units for the heating and cooling system were mounted on a wooden deck.
Over the years, the structure had deteriorated. Now, the homeowner was worried about how long the deck would last. 
Energy Efficiency And Safety In An HVAC System
Comfort is often the top priority when we choose a new HVAC system. In this case, we needed to address energy efficiency and safety first. A ductless mini split fits both those bills. 
A ductless heat pump doesn't burn gas or oil or use electricity ever to generate heat. Instead, it only has to transfer heat to do the job. In the summer, it moves the heat out of the house. In the winter, the unit pulls the heat inside. 
Next, the heat pump often runs in a low-power mode that provides just a little heating or cooling. This way, it uses as little energy as possible. 
And, there's no chance of another carbon monoxide leak. The CO is a byproduct of burning fossil fuels. With that out of the equation, the homeowner doesn't have to worry.
Finally, the outdoor unit is smaller and lighter than a conventional central air condenser. So, this homeowner gets rid of that rickety old deck. 
Better Heating And Cooling With A Ductless Mini Split 
Now, let's talk comfort! And, in particular, how well the homeowner's new ductless mini split heat treats the entire home, whether it's heating or cooling. 
We mentioned the heat pump's low-power mode. Along with saving energy, it makes each room more comfortable. 
Conventional HVAC systems only turn on at full blast when the temperature drifts away from where you want it. Then, it overcorrects and turns off. The cycle repeats, and the homeowner feels those fluctuations. 
Instead, this home now gets amazing, consistent heating and cooling thanks to the Inverter technology powering a ductless heat pump. 
Meanwhile, each air handler, or indoor unit, has a built-in thermostat. So, we're able to "zone" the heating or cooling. Every room with an indoor unit gets customized treatment. 
When our homeowner sets them all the same, he gets consistent heating or cooling throughout the home. Or, he can set various rooms to different temperatures. 
Ductless Heat Pump Installation In Angels Camp, CA
With all these benefits, the homeowner quickly signed on for a five-zone ductless heat pump installation for his Angels Camp, CA home. And, we moved just as fast. Our techs had the entire system up and running in two days! 
First, we mounted the much-smaller ductless heat pump underneath the deck. It's small and quiet enough to stay out of the way there. 
Inside, we set our first air handler just above the door. We positioned it so it's barely noticeable. Then, we placed another on the second floor. This one covers a lot of ground. 
The first floor is open with a very high ceiling and a second-floor balcony overlooking it. That second air handler is strong enough to reach just about all of it. 
To be sure, we added one more near the home office area downstairs. Finally, we added an indoor unit in each of the two bedrooms. 
Running Lines To The Heat Pump
Last, we ran linesets outside from each air handler to the heat pump. This was a little trickier than some other houses since it's on a concrete slab. We couldn't run them through crawl spaces or anything like that.
So, we ran each one vertically down the house, threading them in and out so they didn't take up a lot of room. We ran a smaller condensate line down from each. Finally, each one linked to the heat pump. 
In just two days, the homeowner went from feeling unsafe and uncomfortable to secure and satisfied in every room, in all seasons. 
If your Angels Camp, CA home is due for an HVAC upgrade, don't settle for another loud, inefficient, and possibly unsafe heating and cooling system. 
Instead, contact Performance Based Heating and Air for a free consultation. We'll help you find the perfect system for your needs.