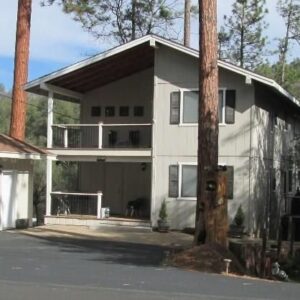 Our homeowners in Groveland, CA were tired of the way their home felt: Too hot in the summer and too cold in the winter. They were tired of looking at a large, ugly through-the-wall AC that ran up their bills. And, they wished their third floor wasn't either sweltering or freezing.
But, with no vents on the third floor and no way to run ductwork, they thought they had no other options. Until they learned about how a mini split can heat and cool the entire home — including the spaces where the ducts don't reach.
In this case study, we'll go over:
Limitations Of Existing Ductwork
Mini Split Heating And Cooling In Every Room
Benefits Of "Zoned" HVAC
Ductless Heating And Cooling Vs. Traditional HVAC
Mini Split Installation in Groveland, CA
Does the heating and cooling system in your Groveland, CA home not reach every room? Are parts of your house too hot or too cold? Call or email Performance Based Heating and Air for a free consultation. We'll help you find the perfect solution for your home and budget.
---
Problem: A new homeowner wanted to add central air conditioning to his new Groveland, CA home. But, there was no way to run the existing ductwork to the third floor.
Solution: Installed a six-zone Mitsubishi mini split. It heats and cools the entire home without using the ductwork. Now, each room gets amazing, customized comfort.
---
Limitations Of Existing Ductwork
For decades, forced-air was the best option for heating and cooling your home. It was the only way to provide both warmth and air conditioning in each room. Today, however, the existing ductwork in older homes leaves a lot to be desired.
Like many homes in Groveland, there was no ductwork on the third floor — and no real way to install it.
Sadly, ductwork is often an afterthought in home construction. Some poor HVAC contractor has to twist and bend the ducts around joists, walls, and floorboards. In these cases, the homeowner would have to renovate the house radically to allow for more ductwork.
In the meantime, there's only so much a forced-air system can do. Each turn and every vent reduces the air pressure. The circulation is weak by the time conditioned air reaches the room furthest from the furnace.
Ductless Heating And Cooling In Every Room
Our homeowner heard that ductless heating and cooling eliminates all the problems he has with his existing ductwork. The more questions he asked us, the more he understood how and why it worked so well.
As the name implies, you don't need ductwork and vents at all to get fantastic comfort in your home!
Ductless doesn't push air all through the house. Instead, this system heats or cools the air in each room on its own. In this case, the big draw was an instant solution to those upstairs rooms that never got any treatment in the past.
With one quick installation, the homeowner added state-of-the-art comfort. And not only to those problem rooms but each part of the house. And, each area got the exact amount of heating and cooling it required.
Benefits Of "Zoned" HVAC
Even the rooms that had existing ductwork will be more comfortable than ever. That comes primarily because of the "zoned" HVAC you get with a mini split heat pump system.
With a thermostat on every handler, Every room, or "zone" of the house gets individual treatment. Now, that third-floor receives the precise amount of warmth or AC it needs! That also makes the rest of the place even more comfortable.
Ductless Heating And Cooling Vs. Traditional HVAC
So, how does it all work? What makes ductless heating and cooling so different from conventional HVAC? By now, the homeowner thought we were making stuff up. But, once we walked him through the process, he understood it much better.
We often call these systems "mini splits" because it's divided into a heat pump outside and air handlers inside. We connect the indoor and outdoor units using a few lines that run coolant liquid in a closed loop between the components.
That makes this all super easy to connect. It's also why working around the house's structure is a snap. All we do is feed these flexible lines, along with a power supply and condensate drains, through the walls.
In some ways, it's similar to baseboard heat and window ACs. After all, these solutions also respectively heat and cool one room at a time.
But, ductless heating and cooling handle both with one system. It also offers more "even" heating and cooling. It's also easier to set and program — much more "set it and forget it."
And, the icing on the cake? Energy efficiency. After installation, mini split heat pump system costs a fraction of any other HVAC setup on your utility bills.
Mini Split Installation in Groveland, CA
We designed a mini split installation using six air handlers connected to a single heat pump to treat the entire Groveland, CA home. Even with work this extensive, we were still in and out in four days.
What helps in homes like these is the crawl spaces. When we install the lines out from the air handlers, they run outside of the house. Each one looks like a rain gutter, so they don't stand out at all.
We run each one out and down vertically, then under the house. In the crawl space, they all join up to meet the heat pump on the side of the house. It keeps everything streamlined and out of the way.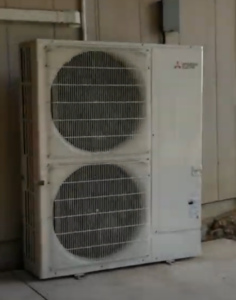 We had a straightforward installation inside: An air handler in each bedroom, including one up on the third floor. They're all connected via wi-fi. The homeowners don't even have to be in the room to control them!
In particular, we used one air handler to handle a large downstairs area. The foyer and living room form a "great room" kind of space, where it's one big open area with a high ceiling that reaches up to the second floor.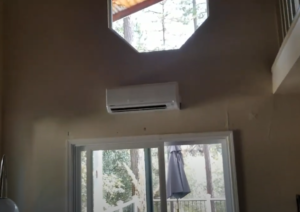 With six zones, the homeowners have excellent control over the heating and cooling in each part of the house. And, their electric bill is lower than ever.
If you're looking for the best way to make your home more comfortable in all seasons, reach out to us at Performance Based Heating and Air for your free consultation!