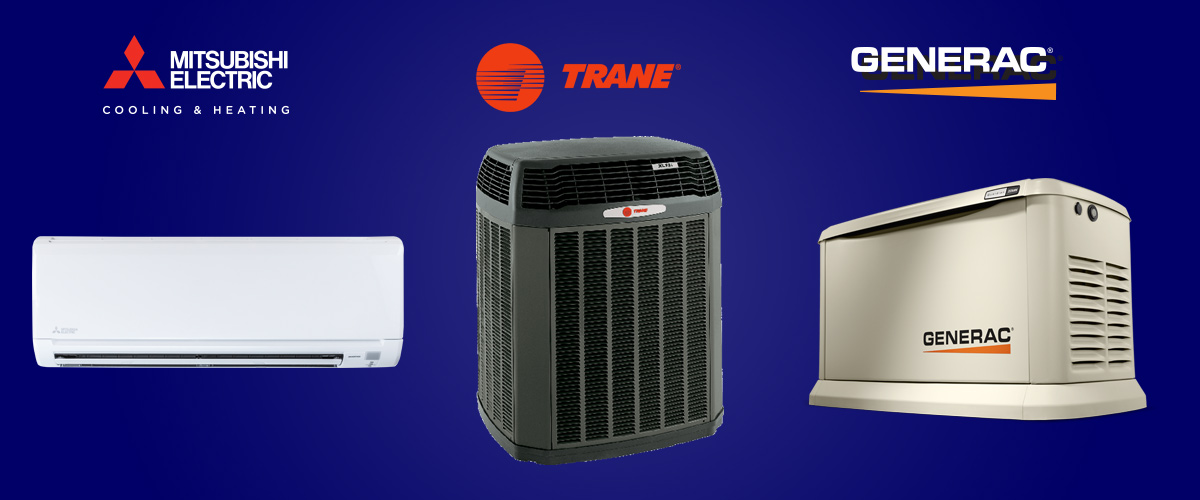 The #1 selling line of home backup generators
Back Up Your Entire Home or Just the Most Essential Items
With Generac's Guardian Series, you need never invest in a larger backup power system than you need. From essential circuit coverage to backing up your entire home, there is a Guardian Series home backup generator that fits the bill. Now coming with FREE Mobile Link™, allowing you to monitor the status of your generator on a phone, tablet or computer from anywhere in the world.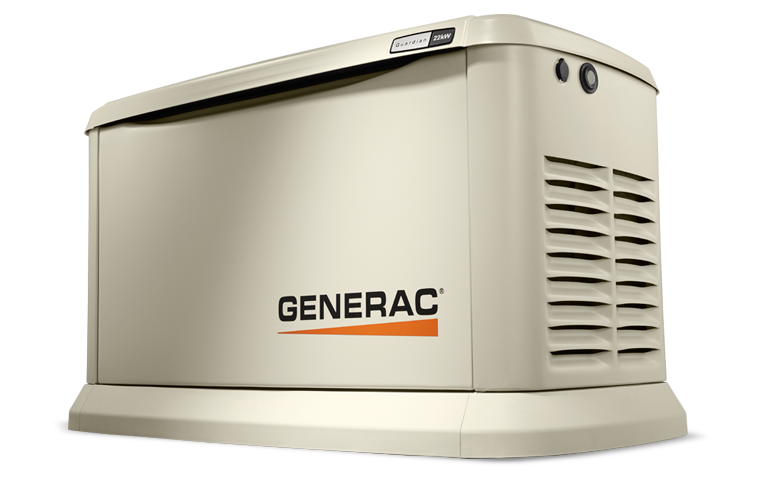 Home backup power. Comfort. Security. Convenience.
A permanently installed Generac home backup generator protects your home automatically. It runs on natural gas or liquid propane (LP) fuel, and sits outside just like a central air conditioning unit. A home backup generator delivers power directly to your home's electrical system, backing up your entire home or just the most essential items. Now coming with FREE Mobile Link™, allowing you to monitor the status of your generator on a phone, tablet or computer from anywhere in the world.
Mobile Link™ Remote Monitoring FREE with every Guardian Series Home Standby Generator
Allows you to monitor the status of your generator from anywhere in the world using a smartphone, tablet, or PC. Easily access information, such as the current operating status and maintenance alerts. With Mobile Link, you are taken care of before the next power outage.
Automatic Operation
Don't worry about having to be there to start and turn off your Generac home backup generator because it does that automatically–whether you're home or away. Your Generac home backup generator runs on your existing natural gas or LP fuel supply. Save the gas cans for your other outdoor power equipment.
The #1 Selling Brand of Home Backup Generators
Generac created the home backup generator category. Today, our generators are preferred by most homeowners who invest in home backup power.
Power Directly to Your Home
You'll never have to run an extension cord through a window or door again. Your Generac home backup generator safely delivers power right to your home's electrical panel.
24/7/365 Customer Support
Power outages aren't a 9-to-5 thing. That's why Performance Based Heating & Air is standing by all day every day to answer any questions you might have.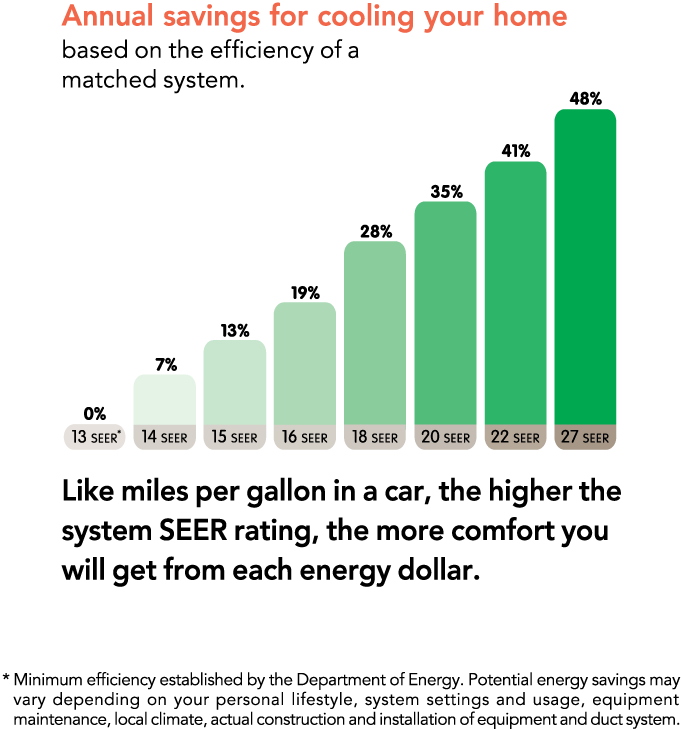 We Service & Repair ALL Makes and Models of HVAC and Ductless Systems

Mitsubishi Ductless Cools & Heats


Recognized worldwide as the best air conditioner on the market. Plus, the advances in the heating performance of our units are unmatched. Our available H2i® technology can heat your space effectively even when temperatures outside are down to -13°F.
Mitsubishi Ductless Makes Comfort Personal

Service Area
Serving Tuolumne and Calaveras Counties.
Over the past couple of decades, advancements in technology have radically changed, well, most everything. We no longer communicate the same, work the same, socialize the same, study the same, or even drive the same.
So, why are we trying to heat and cool our homes the same?
What are the Limitations of Most HVAC Systems?
Most traditional heating and cooling units installed in homes across America are designed to heat homes only when temperatures remain at or above freezing. Many also have limitations when it comes to cooling homes in temperatures that regularly soar above 100 degrees F, especially in very dry climates.
Traditional HVAC units are also considered "disposable" items. In other words, they aren't made to last. They're designed and manufactured to give the homeowner a couple of decades of service — at most — undergoing a critical failure somewhere around the 15 to 20 year mark, at which time repairs are more costly than replacing the unit. Replacement HVAC units typically cost between $6,000 and $12,000 (or more), a hefty investment for something with such a limited lifespan.
Both of these issues are significant for those living in Northern California, where temperatures regularly dip into the teens and consistently soar well above 100 degrees. Property values and labor costs are also high, meaning more expense when it comes to repairing and replacing those aging heating and air conditioning units.
What Heating and Cooling Solutions are Available for the Modern Homeowner?
You don't carry your flip phone from 2009. You don't use Windows Vista anymore, and you've likely swapped that massive desktop tower for a sleeker, more portable laptop or notebook. So, why are you stuck with that outdated HVAC system?
Performance Based Heating & Air (PBHA) recognizes that technologies have changed, and they're offering homeowners the chance to get away from outdated HVAC systems and into the next wave of heating and cooling technology.
Why Mitsubishi?
There are only a scant few heating and air conditioning systems on the market that offer the latest advancements in HVAC. Only one provides top-notch back-end support by self-manufacturing their own parts and unmatched quality control measures and customer service. That's why PBHA chooses to specialize in Mitsubishi Electric ductless solutions. Mitsubishi tracks every part they make and sell on their heating and cooling units. This allows them to quickly and positively identify any design or manufacturing issues, so that parts, and hence their HVAC units, are continually improving. This attention to quality keeps Mitsubishi ductless systems at a staggeringly low 8% failure rate.
Why Ductless Heating & Air?
But quality isn't the only thing PBHA loves about Mitsubishi ductless heating and cooling solutions. Perhaps an even better selling point is the ability to heat and cool via zones, instead of a one-size-may-or-may-not-fit-all heating and cooling system.
Have you ever been miserably cold in one room, while your family members complain that they're roasting in another area of the house? Is your home constructed in a way that makes ductwork difficult or impossible? Perhaps you've added rooms to your home and your current unit isn't up to the added stress.
Did you know that most homes are equipped with HVAC systems that are too large? This means the unit kicks on and off too frequently, never quite getting the building comfortable, while driving up energy bills significantly.
Ductless, zoned heating and cooling means several things:
All your rooms are perfectly comfortable, all the time.

You can adjust for areas of the home or building that aren't used frequently, keeping energy costs down.

Family members can enjoy different temperature settings when there are both cold-natured and hot-natured inhabitants.

If your home construction inhibits or prevents ductwork, you can still have an amazingly cozy home.

You don't have to have separate heating and cooling units. Mitsubishi Electric ductless solutions both heat and cool in one unit.

These units are quiet! If the constant chugging and churning of your heating and air system drives you mad, a ductless unit by Mitsubishi operates quietly, efficiently, and effectively, never bothering your TV watching and phone conversations or interrupting your peace of mind.

Ductless systems are ideal for those with chronic allergy conditions.

Heating and cooling room additions is literally a breeze!
Performance Based Heating and Air is a family-owned-and-operated company in Angels Camp. Don't pay too much. Don't trust a shady, fly-by-night HVAC tech who only wants your hard-earned money. Don't believe that all units are created equally, or that a good unit will serve you well if installed by a hack!
Call PBHA in Angels Camp today to see how ductless is the way of the future for you, your home, and your family! 209-591-5168
Heaters • HVAC • Furnaces • Air Conditioning